In Solidarity with the Activists: Gender-Appropriate Toilets are a Necessary Measure for Inclusivity and Diversity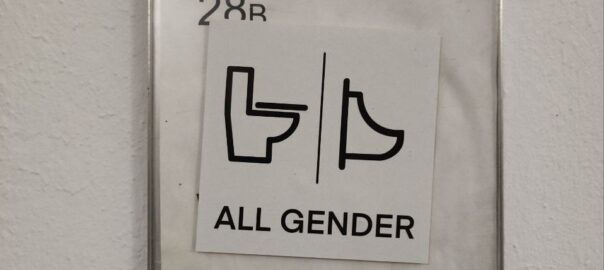 At the start of the semester, activists replaced the binary toilet signs with "FLINTA*" (women, lesbians, inter*, nonbinary, trans* and agender) and "All Gender" signs. In times of rising transphobia and transmisogyny it becomes ever more necessary to provide protective spaces for people of all gender identities. Binary restrooms force trans*, inter* and nonbinary to out be outed aginst their will and create discriminating and dangerous situations every day. We express our solidarity with the activists and suggest permanently establishing a more inclusive toilet concept.
We want to emphasize that gender-inclusive toilets are not a special privilege. Instead they are necessary for trans*, inter* and nonbinary students and staff to be able to fully participate in university life.
We demand effective measures to ensure that the TU Berlin becomes a safe and supportive environment for trans*, inter* and nonbinary students and staff. This includes the permanent establishment of inclusive toilets and also the universal recognition of the gender identities of students and staff, including changes to name and gender entries in all administrative systems. We also hope for the swift establishment of an adequate anti-discrimination and counseling office. These measures are essential to making the TU Berlin inclusive of diversity.
Queer Department