Please note the following:
The current pandemic and the resulting online-semester is NOT a reason for exemption from Semesterticket fee. This is the result of an legal examination of the semesterticket contracts between us and VBB by a lawyer.
TU and UdK exemption requests will be different from now on. Please make sure you use the correct form depending on which university you study at.
Due to the system change from the TU Berlin administration to SAP, there are some changes for exemption applicants. You can find further information here and at the end of this page.
IMORTANT:
Please pay the entire re-registration fee so you dont have to pay a fine!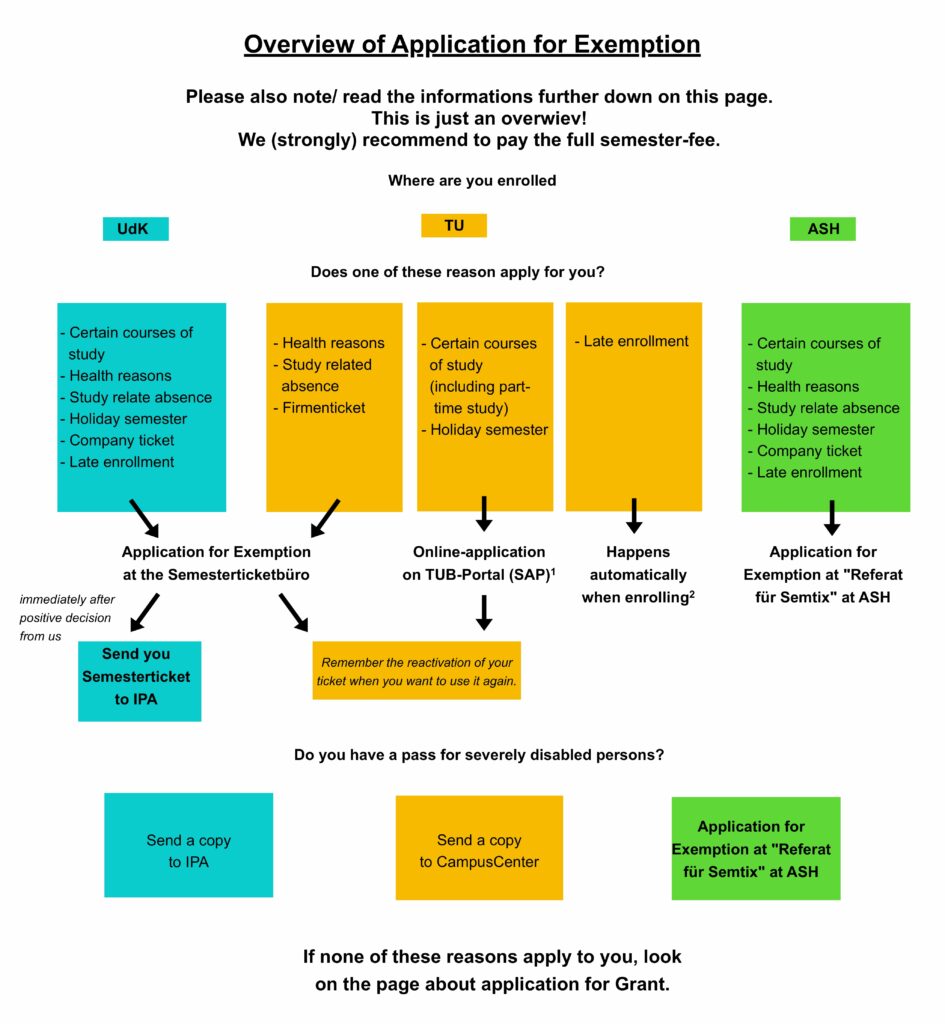 For your application, you will need one of the following forms, depending on which university you're enrolled at.
You also may need the following document, if you want exemption because of study-related absence:
Exemption
Upload your files for your application for exemption
---
Please compile all files as one pdf
Please name the file in the format LastnameSurname.pdf
Termination of Enrollment
If you terminate your enrollment, you will be compensated one sixth of the price for each full month you will not use the ticket. The Office of Student Affairs/Campus Center handles these cases. The amount refunded depends on when exactly you return your student ID or Semesterticket.

As a general rule, all students of TU Berlin are required to pay for the Semesterticket. However, in some cases, students are automatically exempt:
Students who are not enrolled at TU Berlin or are not part of the primary student body (i.e. students who are enrolled at another university and study only a minor subject at TU Berlin – so-called 'Nebenhörer', and students not enrolled at any university— 'Gasthörer')
Students enrolled at another university in Berlin or Brandenburg and who pay their fees there (double enrollment).
The Campus Center/IPA should automatically handle these cases; you do not have to do anything.
severely disabled students entitled to free transport with disability ID (Schwerbehindertenausweis)
The Campus Center/IPA does not handle these cases automatically! Please submit a color copy of your disability ID as proof to them.
For more Information follow this Link

There are certain justifications for an exemption for one or more semesters. Cases are decided according to the Semesterticket statutes. Fill out the application for exemption and submit it to the Semesterticket Office together with the necessary proof. Valid reasons include:
Students who cannot use public transport for health reasons (medical certificate required!)
Students temporarily living outside the VBB public transport area (A, B, C) for study-related reasons for at least three consecutive months during the semester in question (e.g. exchange semester, internship, …)
Students in a supplementary course, further education courses, further master's courses and other courses; part-time students, and PhD students: List of courses entitling students to exemption (PDF, in German)
Leave of Absence (Urlaubssemester)
Note that you will not get a refund for any completed or started months if you apply after the semester has started!
Late enrolment after the semester has already started
Students who enroll more than a full month after courses have started are refunded one sixth of the Semesterticket fee for each respective month. You will need to apply for the refund in the Semesterticket Office.
Please note: If you are exempt from the fee, you will not have a Semesterticket until the next semester starts. TU: Your Campus Card will not be valid and can not be used for public transport. UdK: You will have to hand back your paper VBB-ticket to the IPA.
If you apply after the end of re-registration, you will have to pay the Semesterticket fee first and then you will receive a refund if your application is granted.
Information and announcements regarding the exemptions from the semester ticket from SoSe 2020 onward:
Due to the system change from the TU Berlin administration to SAP, there are some changes for exemption applicants.
This change only applies to students from TU Berlin. Everything else remains the same for UDK students.
The reimbursement of the semester ticket fee will not be automatic as it was previously. Upon receiving the notification, you must keep an eye on the TUB portal under SAP "Payment overview" for the payment to appear. You will then need to submit your IBAN details into SAP, after which you can request reimbursement in the TU portal. If you have already made a reduced payment, you must ensure that the exemption you have from the semester ticket office is submitted and stored in the TUB portal. Please double-check if necessary.
In the future, students with a severe disability ID will no longer have to submit a new application every semester. However, you should keep an eye on your payment overview in the TUB portal.
Since SoSe 2020, the semester ticket office only processes applications for the following reasons:
Health
study-related Absence
Company ticket
All other reasons for exemption are processed by the Campus Center! Please send applications to the Campus Center for the following reasons:
Course of study
Holiday semester
Enrollment
Applications received with these reasons will be forwarded to the Campus Center. Please refrain from asking questions about the status of your application and contact the Campus Center directly instead.
Further Information about extemption from semester ticket fee and about the application procedure are listed here:
https://www.tu.berlin/studieren/studienorganisation/themen-a-z/semesterticket/

After exemption
The semester ticket integrated in the CampusCard is automatically reactivated after exemption when the exempted semester is completed! There is no need to apply for a new ticket!
If there are problems, please contact us!
If you have problems in a control because of an inactive ticket and have to pay EBE, file an objection with the public transport company and get in touch with us!
PFD documents on this page