Press release on the Berlin-wide Student General Assembly on 02.12.19 and the subsequent disruption of the workshop of the German Rectors' Conference regarding strategies for internationalization, mobility and permeability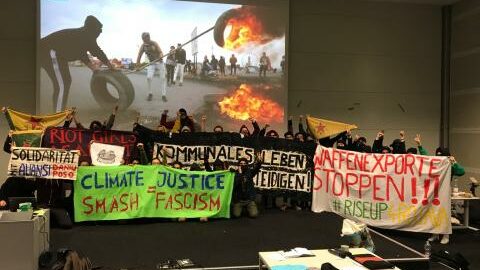 The Berlin students got together on Monday, the 2nd of December, and held a plenary meeting to show solidarity with the revolution in Rojava and other internationalist struggles. An important point of the general assembly was the setting up of demands, which refer to the campaign of the academic boycott originating from England. The demands are addressed to the presidencies of the different universities of Berlin. Among other things, the Berlin universities should make their partnerships with Turkish universities and the extent of these partnerships publicly transparent. They must terminate their partnerships with Turkish universities loyal to the regime, which disseminate nationalist, patriarchal, Kurdish-hostile, generally discriminatory and war-glorifying contents.
Leon, delegate of the TU, said: "The general assembly has clearly shown that Berlin students stand in solidarity with the liberation struggles in Rojava, but also everywhere else in the world. Furthermore, we also understood that the war begins here and that we live in the heart of the beast. We must not wait and see how everything develops, but must actively take part in the struggles here and now."
On Tuesday, the 3rd of December 2019, a delegation of Berlin students handed over these demands to the presidents and rectors at an event of the German University Rectors' Conference (HRK) in Berlin and once again showed solidarity with the internationalist struggles in Rojava and everywhere.
Pino, delegate of the ASH, comments: "With this action we have made clear that we do not only want to talk and raise nice demands, but also want to emphasize these demands with actions. The struggles continue here and elsewhere and as long as they continue, we will not sit in our lecture halls waiting for a better world".
If you have any further questions, please contact:
students4rojavapress@gmail.com
Demands (in German): https://asta.tu-berlin.de/website_test/wp-content/uploads/2020/06/Forderung-02.12.-final-abgestimmt_0.pdf