We celebrate the feminist strike day on March 8th!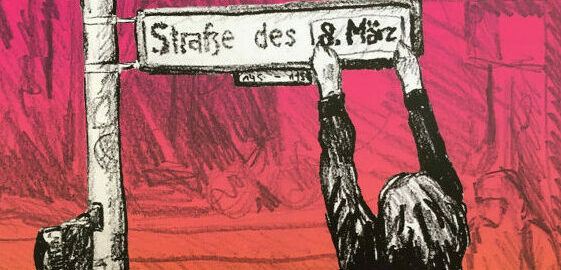 For a year now, March 8th has been an official public holiday in Berlin as a feminist day of struggle. We celebrate that, but we don't want to forget that feminism is also needed for the remaining 364 days. Every day FLINT * people (women, lesbians, inter, non-binary and trans people) are confronted with physical and psychological violence, exploitation, and attempts to marginalize their voices.
Universities are no exception! Since FLINT* inclusion we have won many victories including achievements such as women's councils which are revolutionary contributions in the struggle for recognition. Yet even today there are still plenty of sexist students & professors who think natural sciences are purely men's business & anti-feminist attempts at agitation in committees.
When we write of the feminist March 8th, we would like to explicitly address everyone who does not identify with a world of two-gender categories (i.e. exclusively man and woman) & the supposedly "natural" classification.
A feminist March 8th means we stand in solidarity with FLINT * people who fight racist repression and with all FLINT * people worldwide whose life and right to physical self-determination are threatened worldwide.
Feminists of the world unite! We have nothing to lose but the patriarchy!